"Orthodontics is a fun, challenging, and rewarding profession. It is important to me to build a relationship with patients and their families during treatment and beyond. I believe that a beautiful, healthy smile can make an incredibly positive change in a person's life and I am grateful to have the opportunity to be a part of that process!" — Dr. Schieck
Dr. Jacquelyn Schieck loves the profession of orthodontics, and feels so fortunate to be able to create beautiful smiles every day. She was inspired to become an orthodontist by her own orthodontic treatment as a teenager; she wanted to give others the self-esteem and confidence that she gained from her new smile! Dr. Schieck enjoys meeting new people, building relationships with patients and their families, and understanding the individual needs of each person. She is inspired by the artistic side of orthodontics, which combines with science and service to others to make a profound difference in a person's life.
Education and Continuing Education
University of Missouri-Kansas City – Doctorate of Dental Surgery (DDS), summa cum laude
University of Minnesota – Specialty certificate in orthodontics/Master of Science (MS) degree
Dr. Schieck takes pride in obtaining more than the required amount of continuing education credits each year. She regularly attends supplemental classes and conferences, and belongs to peer study groups. She believes it is vital to stay current and receive practical information to make treatments as effective and efficient as possible. Dr. Schieck finds it of the utmost importance to treat her patients with evidence-based knowledge while providing the highest quality of orthodontic care.
Professional Memberships
American Association of Orthodontists (AAO)
American Dental Association (ADA)
South Dakota Dental Association (SDDA)
Midwestern Society of Orthodontists (MSO)
Minnesota Association of Orthodontists (MAO)
Omicron Kappa Upsilon Honor Society (OKU)
AAOF Regent – Vanguard Society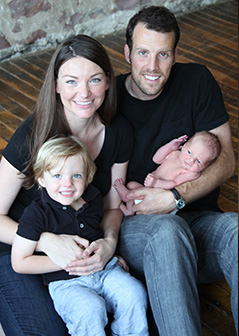 Outside the Office
A native of Sioux Falls, SD, Dr. Schieck currently resides in Northfield, where she is eager to discover new ways to be involved and give back to the community. She and her husband Tanner have two boys, Samson and Roman, and two yellow labs, Maizie and Griz. When she's not in the office, Dr. Schieck loves to spend her free time with family, living vicariously through Pinterest and home decor blogs, and enjoying outdoor activities. She also enjoys reading, sewing, church involvement, and singing.